Play Andar Bahar Online For Real Money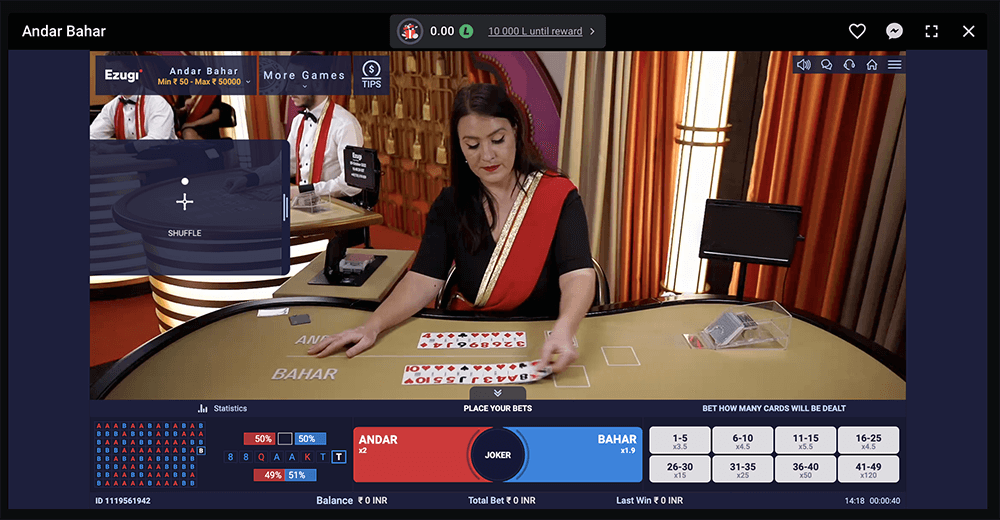 The traditional Indian card game Katti, also known as Andar Bahar, has been digitized and smoothly adapted to the contemporary, or tech-driven, world. Even though it's simple, it differs significantly from any Western card game you would play at a different casino. As a result, if you're a bettor looking for fresh, dependable online casino entertainment, it's worth trying out. Evolution's version of the age-old Indian gambling game, Andar Bahar Live, has gained popularity in recent years.
Straightforward gameplay leaves no player confused, only entertained – as the dealer does the job, you sit back and enjoy watching the deal. In the following sections of our Andar Bahar review, we will explain in detail how to play Super Andar Bahar live, where to find it, and show you its features and payouts.
Andar Bahar Games Online
A number of the online casinos that offer Andar Bahar games have been nominated for illustrious gaming honors, including Best Online Casino Supplier.
What's more, all online Andar Bahar real cash games are tested by trusted independent gambling organizations like eCogra to guarantee fairness. You can find the Andar Bahar real cash game, both live and RNG ones, in the casino lobby. Most Andar Bahar tables allow both small and big bets, so every game is suited for most players. The best games should be easy to play, exciting, and offer something unique.
How to play Andar Bahar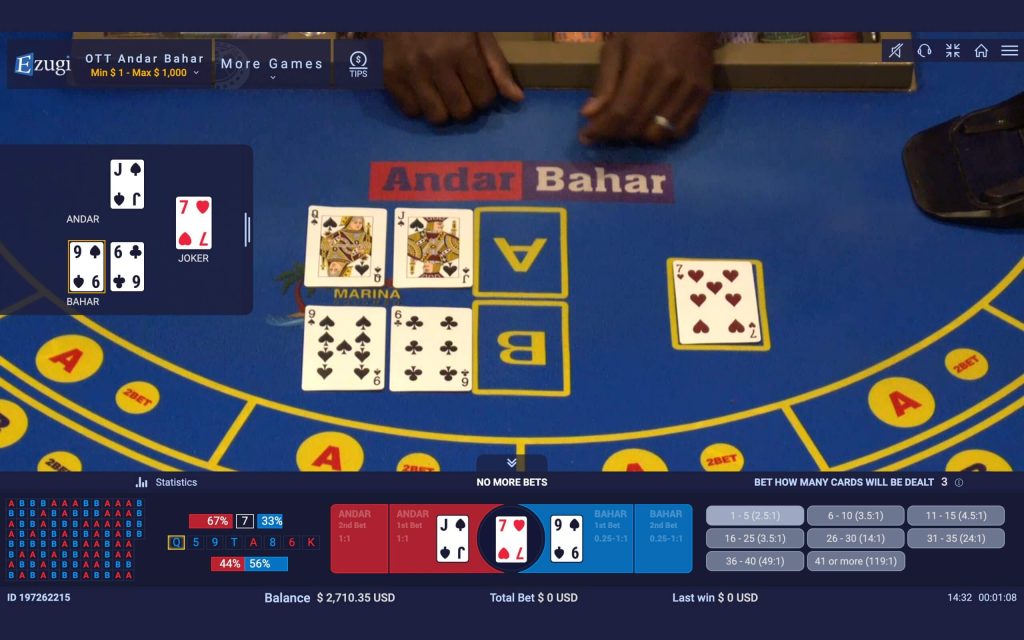 Andar Bahar  maintains the integrity of the traditional card game. This is how it goes.
After deciding on your stake size, which can range from $1 to $500, you place your chips on the board. You can pick between the Andar space and the Bahar space, both of which are available for betting;

One card is dealt to the center of the table once you select «Deal,» and the dealer then deals cards out from there, alternating between the Andar area and the Bahar space. You're attempting to determine which side of the board will be dealt a card first that has the same value as the center card;

As an illustration, if the middle card is a Jack and the next Jack is dealt on the Andar side of the table, Andar will win. Bahar, on the other hand, would suffer in this scenario.
Andar Bahar is a straightforward yet thrilling game of 50/50 chance. After a long day of work, it's perfect for unwinding and unwinding; excessive thinking, worrying, and pondering are not part of the experience.
Payouts
When it comes to payouts, players will be delighted to hear they can win up to 4,000x the stake at this table. The secret to its success lies in the multipliers, which we'll talk more about in the following section. Besides the grand multipliers, Evolution tried to honor the traditional game by implementing classic payouts and rules.
The payouts on Pragmatic Play's Andar Bahar led to an RTP that was somewhat higher than those of the majority of the opposition. Simple enough, the primary wagers are even money (or close to it, at least). However, the various wagering choices and side bets have a broad range of RTPs. In light of this, the RTPs for the bets are also included in the Pragmatic Play Andar Bahar paytable below.
Side-bets in Andar Bahar
It's time to mix things up with some side bets now that you know the Andar Bahar regulations. Given that the rewards might be as high as 120:1, they can add a lot of excitement. The most typical side bets are listed below:
Joker Prediction. You only consider the joker card that is drawn when placing the Joker Prediction side bet. Many outcomes you can wager on, together with their odds and rewards, are shown below. The Joker Prediction side bet is distinct since it is decided before you place your wager on the main game.

Bet on the Range. The number of cards drawn between the joker and the matching card is the topic of the Bet on the Range side bet. A 41+ correct range forecast pays 120:1, which is a high payout for any casino table game.

Mid-Game Wager. The third most common Andar Bahar side wager resembles a betting variant more than anything else. Players can place a second wager using the Mid-Game Wager after the joker and the first Andar and Bahar cards are dealt.
There are very few methods to increase your odds of winning when playing Andar Bahar, and this side bet or variant is one of them.
Need-To-Know: Playing Andar Bahar for cash
Even though Andar Bahar is a straightforward card game, there are several fundamental guidelines and game choices you should be aware of before playing. These could differ slightly between live casinos, new features and options, and internet casinos. However, the following are the Andar Bahar basic guidelines:
When you deal with the same value card as the one selected at any betting location, the round ends;

If you place a bet in the correct place, Andar or Bahar, you will win and receive the payout;

All other bets will be forfeited by the dealer.
Payments
The top Andar Bahar online casinos offer the most practical payment options. To make deposits and withdraw your wins, you may do so using safe and secure options including Google Pay, Paytm, and e-wallets.
Andar pays 0.9:1, while Bahar pays 1:1. The lower payout signals that Andar wagers are more likely to result in wins. The chance that the matching card will appear on the side where the first card was dealt in the round is 51.50%!
The Live Dealer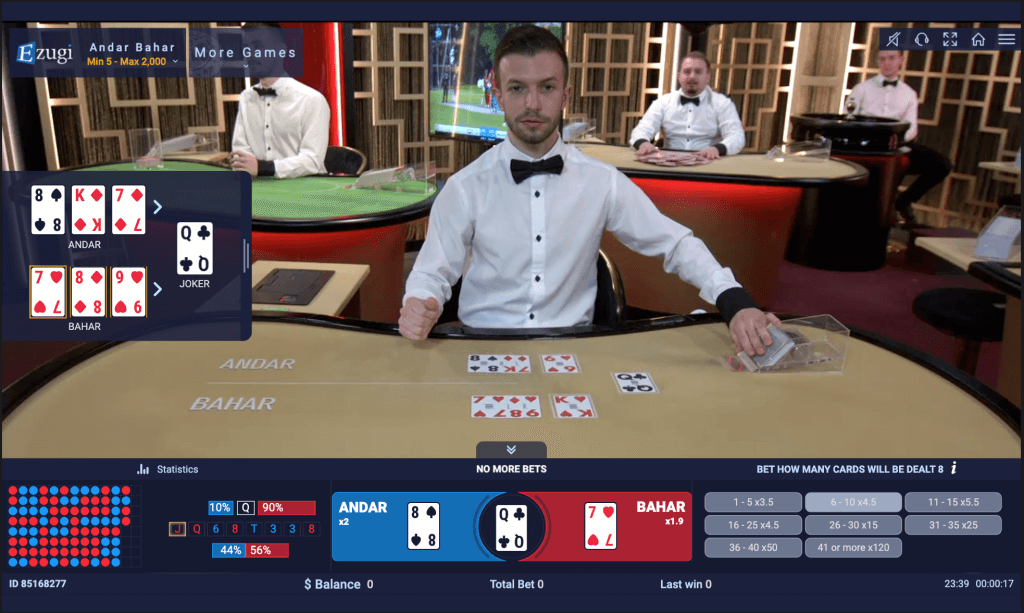 The live dealer always pulls the joker and lays it on the table when playing live Andar Bahar online.
Andar Bahar Live or Virtual
Online Casinos provide two variations of Andar Bahar: a virtual, RNG-based version and a live casino version played with a real live dealer. The cards are dealt using a Random Number Generator (RNG) rather than a dealer on the RNG table, which is digital.
What is Online Andar Bahar?
Playing Andar Bahar online is similar to playing with friends or family. The only difference is whether you want to play alone or with other online gamers to share the fun. Try your luck with either free entertainment or thrilling experiences paid for with money. You'll be on the edge of your seat as it is quick, furious, and immersive. The benefit of this enduringly popular game is that it can be played anywhere. All you usually need is a deck of cards, without tables, reels, or chips becoming more complicated. When you play the Andar Bahart game, it gets mobile. You can enjoy it on your computer, smartphone, or tablet with a single touch, at any time.
Strategies
Choosing a strategy for the side bets is difficult. However, the multiplier payouts are the target, so you can be a little more adventurous with the spread of the betting. Keep in mind that while getting a big win with a multiplier is always desirable, any success should be savored. Don't be blinded by going after the high payouts. Playing conservatively, you'll still return a profit – which is the main aim.
In a deck of 52 cards, three cards will match with a joker. The good thing is you don't have to specify which hand will match. You have to predict how many cards have been dealt when the match occurs. If you divide 51 cards by 3, you get 117. Which is the average dispersion in a deck the three cards will have. So for every 17 cards dealt, you should get a match.
So, the strategy is to target Cards 11–15, Cards 16–20, Cards 21–25, and Cards 31–35. I place bets on each of these ranges and hope they also get multipliers.
Statistically, a match should occur more often in these ranges. But matches do fall outside these ranges, so a flutter on another spot can't hurt, depending on how much bankroll you have. Remember though do not bet more than the lowest single win would give you. This will help to maintain your bankroll and ensure you can hit a profit if the cards are kind to you.
Statistics
The Andar Bahar comes with a set of statistics that show the results from the previous 50 games. In truth, these have no bearing on the next game, as the cards are shuffled after each round. They show the propensity for the game to be almost a coin toss, with an even number of Andar and Bahar hands winning. The Andar hand is always dealt first, so it is more likely to get a match first. That is why a commission of 10% is taken on the Andar payouts.
Mobile Andar Bahar
Because the Bovada Gaming development team constantly prioritizes mobile compatibility, they have made sure that Andar Bahar runs well on some smartphones and tablets. The game should function flawlessly on Android and iOS devices, and there's a considerable likelihood that other phones, independent of their operating system, will also support it provided they have a current web browser.
Andar Bahar Apps
Downloading an app is a simple way to get quick access to Andar Bahar and other card games available for play. The majority of online casinos include a gaming app that you can download, install, sign up for, and use immediately.
Android / iOS
You may play Andar Bahar without problems whether you have an iPhone, iPad, or any modern Android smartphone. All devices can play the Andar Bahar real cash game flawlessly. Just make sure your 4G or Wi-Fi connection is strong.
What do I need to start playing?
The following is a list of everything you will need to play at the online casino:
An account on the chosen platform;

A reliable payment method, such as Paytm or GPay;

A gadget, like a PC, laptop, tablet, or smartphone.
The Samsung Galaxy A5 from 2017 is one of the many devices we use to analyze online casinos, and they run without a hitch on it.
Therefore, there won't be any problems using devices that are older than that. Whether you play live or RNG, you don't need the most recent version of iPhone or Android to enjoy yourself.
What about its legality online?
Many gamblers are wondering if it is legal to play Andar Bahar online in India. The Public Gaming Act of 1867 governs the legality of gambling in India. Unauthorized types of gambling are prohibited under Indian law. According to the Public Gambling Act, the only exceptions are horse racing and lotteries. So, if you look at these laws as the foundation for the legalities of Andar Bahar, it plainly states that the game is illegal. On the bright side, India does not follow ancient laws. The fee, however, is light for those states that still enforce the ancient legislation.
The old law prevents people from owning and maintaining a gaming establishment. It does not, however, prevent some people from doing so. The low fine and minimum imprisonment are most likely why many people continue to operate illegal gaming establishments, notwithstanding the legislation. There is a minimal probability of being caught if you play Andar Bahar at an underground casino.
If you want to play Andar Bahar in a typical brick-and-mortar casino, you should go to Sikkim or Goa, which both allow gambling in licensed gambling establishments. But suppose you don't want to fly to another Indian state to explore and enjoy gambling. In that scenario, your best bet is to play Andar Bahar at an online casino.
Andar Bahar Casinos
There are a lot of excellent casinos around Andar Bahar, to mention just one. Numerous operators have been analyzed, and we have chosen those that best suit Andar Bahar gamers.
Leon
Leon's exclusive Live Bollywood tables are a special way for them to demonstrate their appreciation for all of their Indian players. The Live Bollywood Andar Bahar table from Evolution can only be found there.
Pinup
Pinup Casino is the place to go if you want an Indian-specific gaming website where you can play Andar Bahar in four different variations. The platform is accessible in various languages, including Hindi and Bengali.
Andar Bahar Game Providers
Without the game suppliers, casinos would be nothing. And when it comes to producing thrilling card game entertainment, a select handful stand out from the rest. Along with Teen Patti and Jhandi Munda, these four providers have all produced online adaptations of the traditional Indian Andar Bahar online game.
Evolution

Evolution is regarded as an innovator and trailblazer in the live casino sector and is an expert at providing top-notch live entertainment. Its specially designed studio streams Bollywood tables in both Hindi and English. We're interested in seeing more Evolution Indian tables.
Ezugi Ezugi is likely the live provider that has the most emphasis on India while also offering top-notch games. Like the Evolution table, its Andar table is readily accessible on numerous casino websites nowadays and is available in Hindi and English.
Super Spade

Super Spade is renowned for thinking beyond the box to provide players with cutting-edge renditions of time-honored games. It is an excellent instance of how to develop the traditional game into something fresh and captivating with its Speed Andar Bahar and No Commission Andar tables.
OneTouch

OneTouch is a company that specializes in making mobile games, as the name may imply. With RNG verified to the standards of Malta and the UK, it provides a variety of slot and table games. For any player seeking a non-live version, the RNG Andar Bahar table is the ideal option.
Play Andar Bahar for Free vs. Real Money
You will have a big edge if you play the game for free since you won't have to pay anything. You'll be able to wager any amount and test out different bet kinds and side bets without taking any risks in this way.
Once you're at ease with the game, walk over to one of the live tables and try your luck playing for real money. Just keep in mind to only use funds you can afford to lose while you play. Although Andar Bahar has a lot of potential for winning, there is a danger connected with all forms of gambling.